We offer a fast, clean and efficient gutter cleaning service for residential and commercial properties.
We show up on time, we don't overquote!
Get $20 off your first cleaning with us
We fixed over 2,000 leaky or clogged gutters
Enjoy your 10% senior discount!
$20 off from your first cleaning!
Get a Gutter Cleaning
Quote
Trusted reviews from Google Business.
Customers love our quality of work.
We can fix any issues relating to your gutters.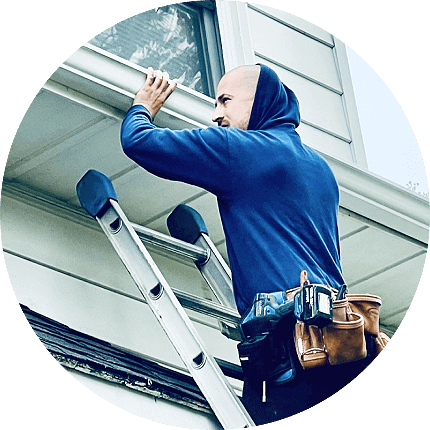 Gutter Cleaning Before & After
Most homeowners dread cleaning their gutters. Many people put it off, unaware of the serious issues that can come as a result. But, when left unchecked, gutter issues can cause structural damage to your home. That's why you can't put it off. Deal with this maintenance issue today before you're faced costly home repairs later.
The extra weight of leaves, twigs, mud and debris can pile up and make your gutters clog or sag, preventing them from functioning as they should. This problem can get so bad that your gutter system backs up and can't keep water flowing properly.
Clean gutters give you peace of mind as a homeowner. You can rest assured knowing that your gutters are functioning properly and keep water away. You'll also prevent water damage, and structural issues, and protect your home's foundation.
 It's time

to get your gutters cleaned.
Schedule your cleaning today!
In the last 16 years, hundreds of customers looked up to us for help with their gutter clearning. See what they have to say.
They did a full tear off, new shingles, new gutters, and gutter screens. They arrived on time. Very professional, excellent work. They were fast and great quality. They were highly organized and cleaned up perfectly after they finished. Best Roof and Gutter contractor that I've ever had the pleasure of
working with. Highly recommend and would hire again! A+++. 

Project: Install/replace seamless metal gutters
I needed a gutter repaired after a snow storm. I looked up companies and Mr. Gutter got great reviews. He earned every one of them. He showed up as scheduled and the job was completed very quickly and efficiently. The cost was very fair, he didn't gouge me at all. I would definitely call him again for any future needs and I highly recommend using him.

Project: Repair/replace seamless metal gutters
Mike was very responsive and easy to work with. He didn't hassle me for payment and everything went smoothly. After I paid him when he was walking away, he said you have my number if there are any problems in a way that I believed if there was an issue, he would really fix it.

Project: Install/replace an asphalt shingle roof
Andrew B., Beach Haven, NJ
The Mr. Gutter staff were professional and I am completely satisfied. They came when they said they would, they did what they said they would do. What more can you ask for!!!! I would recommend them for anyone who needs excellent work at a fair price.

Project: Install/replace gutter covers and accessories
Darlene R., Point Pleasant Beach, NJ
Great job! They consistently show up on time and finished the project quickly. They were there when they said they would be and didn't play games with the quote as some companies do. They were willing to accommodate our schedule which was also a big help. Overall very impressed and would recommend them to anyone

Project: Install/replace gutter covers and accessories
Homeowner, Kendall Park, NJ
I called on a Sunday and he showed up within an hour for a price quote. They did the work the next day.

It was a simple job and they performed as discussed. Fast service done as contracted is best and they did that.

Project: Repair/replace gutter covers and accessories
Harlan K., Manahawkin, NJ
Fast

,

neat

, and

efficient

gutter cleaning service
There are many things that cause gutter problems, including the build-up of moss, leaves, and other debris. If you noticed your gutters aren't working properly give us a call. We will come out timely and clean your gutters. There is no need for you to climb a ladder and risk your safety again. Whether you need a simple cleaning or a major overhaul, we're here for you.
Fast Quote, Job Done Right!
We come out, evaluate your needs, and provide real estimate. No overquotes!
We show up and get your job completed quickly, on time, within the budget!
Everything is covered, parts and labor! No deductibles! Just call and we show up.
We Service Monmouth, Middlesex, Ocean, Mercer, Burlington, and all surrounding areas in New Jersey.
Family owned and operated
Maintained safety standards
the first gutter cleaning