Gutter Installation & Replacement
We'll assist you with choosing the right gutters that suit your home and your roof. We'll work quickly and efficiently to provide you with the best solution.
Choose from K-style or half-round gutters
Your property will be left clean, and the replaced parts will be removed
25+ colors to choose from, including Royal Brown, Musket Brown, and Black
Enjoy your 10% senior discount!
Get a Gutter Installation
Quote
Trusted reviews from Google Business.
Customers love our quality of work.
We can fix any issues relating to your gutters.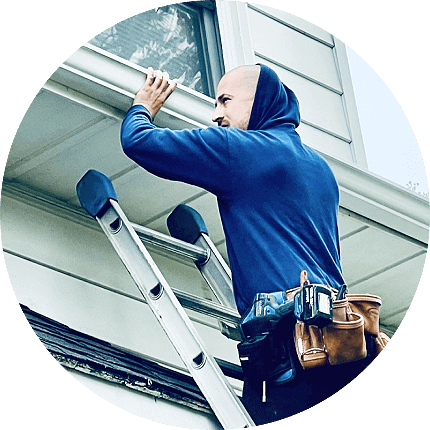 Seamless K-style or half-round gutters?
We ensure that all gutter materials are the best quality and supplied from reputable sources.
Your gutters are a worthwhile investment. If they're not properly installed, they can cause damage to your home and lead to expensive repairs. Our gutters are made in America with aluminum. Our seamless gutters come in two styles, K5 and K6. The K5 residential gutter has a downspout size of 2 by 3 inches, while the K6 residential gutter has a downspout size of 3 by 4 inches. We also offer half-round gutters for those who need them. We include a 25+ year warranty on all our gutters, so you have peace of mind for years to come. Available in aluminum and copper.
Do you have a traditional or a historic home? If so, you can't go wrong with half-round gutters. These gutters add a touch of class and style to any residence. They have a round shape which allows water to drain out. When less water is kept in the gutter there's less chance for rotting and corrosion over time. The inside of a half round gutter is also smooth, which improves its durability. The surface doesn't have any creases that collect water, which makes it effective at doing its main job: washing debris out of the gutters to keep them clean. Available in aluminum and copper.
In the last 16 years, hundreds of customers looked up to us for help with their gutter installation. See what they have to say.
Showed up 20 minutes after they returned my call. Accessed the problem, it was a small job and fixed the problem. It took them 20 minutes, did an excellent job and price was very reasonable. They also didn't try to sell me anything else.

Project: Install/replace seamless metal gutters
I am completely satisfied with the work performed by Mr. Gutter. The project was completed on time and on budget. They took away my old gutters and cleaned up thoroughly before leaving. I would not hesitate to recommend them.

Project: Install/replace seamless metal gutters
They did a full tear-off, new shingles, new gutters, and gutter screens. They arrived on time. Very professional, excellent work. They were fast and provided great quality. They were highly organized and cleaned up perfectly after they finished. Best roof and gutter contractor that I've ever had the pleasure of working with. Highly recommend and would hire again! A+++. 

Project: Install/replace an asphalt shingle roof
Robert showed up exactly on time to look at the job I needed done. He was very courteous and it was apparent he was very knowledgeable about gutters. He had the job done in a very timely manner at a very fair price. I could not be happier with the work of Mr. Gutter!

Project: Install/replace gutter covers and accessories
Charles C., Manahawkin, NJ
They called me the very next day. Followed by a visit just to look the nob over. A couple of days later the truck came in the driveway and they were done and gone in under an hour and a half. All cleaned up and no mess for me to clean up.

Project: Install/replace gutter covers and accessories
Ronald R., Manchester Twp, NJ
Pick the color of your gutters
Get the look you want. Over 25 colors to choose from.
Gutter Installation

Gutter Replacement
Our gutter installation options are sure to suit your style, needs, and budget. If you're building your home and need gutters for the first time, we can help. We'll assist you with choosing the right gutters that suit your home and your roof. We'll work quickly and efficiently to provide you with the best solution that fits your needs–whether it's the k5, k6, or half-round gutters. We'll also maintain open communication with you throughout the entire process. Customized solutions are available for customers with special needs.
Prevent water from leaking into your home's interior
Keep water away from your home's foundation
Protect your roof and siding from mold and mildew
Select from a variety of types and colors
Sometimes you may not know if your gutters need repair or a full replacement. Mr. Gutter is here for anyone who has experienced frustrating issues with clogged up gutter systems in their home over time—we can take care of it without any hassle or problem at all. We're also here for you if you just bought your home and need your gutters replaced. We only use seamless gutters to help ensure water drains properly. Available in many colors and styles to suit your home.
Provide your home with years of protection
Keep your gutter system working and flowing properly
Update the look of your home to improve its curb appeal
Keep water from seeping into your basement
Need Help Deciding Your
Gutter

Solution?
Get your free, no obligation inspection today!
Fast Quote, Job Done Right!
We come out, evaluate your needs, and provide real estimate. No overquotes!
We show up and get your job completed quickly, on time, within the budget!
Everything is covered, parts and labor! No deductibles! Just call and we show up.
We Service Monmouth, Middlesex, Ocean, Mercer, Burlington, and all surrounding areas in New Jersey.
Family owned and operated
Maintained safety standards
10% off senior citizens 55+ for a full gutter and downspout or gutter guard installation.